Felder Rushing addresses Living Sculpture Conference ...
... from the back of his pickup truck garden. View videos:
Part:
1
|
2
|
3
---
NYS Learning Standards
- For living sculpture activities.
---
Art of Horticulture students build sod sculpture at Bluegrass Lane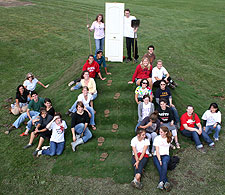 ---
Featured community project:
Sod sculpture
- Create a sofa or other work of art from soil and sod.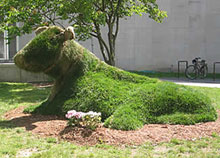 ---
Featured easy activity:
Indoor topiary
- Grow ivy or other houseplants over wire frames.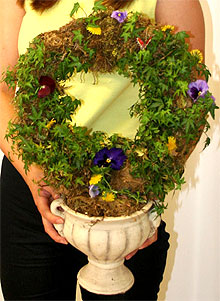 Living sculpture is art made with plants -- a creative blend of both art and science. This site will help you engage children and youth in:
Easy activities - Simple projects suitable to any educational setting. Many are indoor projects.
Community projects - Exciting, larger and more challenging community-scale projects.
Activities and projects use several living sculpture techniques, including:
Featured videos:
Sod sofa at Cornell Plantations
Also at this site:
Comments or suggestions?
Tell us about your project. Email Marcia Eames-Sheavly ME14@cornell.edu.