Easy activities:
Community projects:
Videos:
Example:
Turfwork! (Bluegrass Lane, Ithaca, N.Y.)
You may have heard stories about amazing works of crop art that are designed to be viewed from the air and that are created by such noted artists as Stan Herd.
Or perhaps you've been intrigued by crop circles, created by farmers (or as some may believe, extra terrestrials!!)
Crop art is extraordinary, and takes a lot of advance planning and a lot of land! Crop artists plan in advance on paper, and often work with farmers, special equipment, and a diversity of crops to create multi-acre masterpieces that are viewed from the air and are captured via photographs. They draw on a variety of impressionist, surrealist, and modernist roots in their designs, and some are downright quirky...
For our Living Sculpture project, we have taken the idea of crop art, and interpreted it on a smaller scale. Our activities will focus on creative mowing and working with materials to exclude light.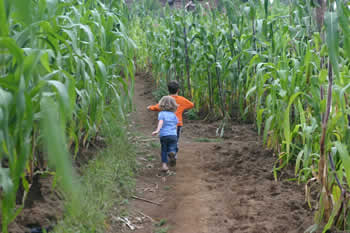 Resources
---
Books:
Perfect: Mowing Techniques for Lawns, Landscapes, and Sports. Mellor, David R. 2001.Wiley & Sons Inc.
Lawnscapes: Mowing Patterns to Make Your Yard a Work of Art. Parfitt, David 2006. Quirk Books.
Crop Art and Other Earthworks. Herd, Stan 1994. Harry N. Abrams Publishers.
Crop Circles: Art in the Landscape. Pringle, Lucy 2007. Frances Lincoln.
Websites: