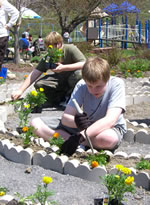 Contributors:
Leigh MacDonald - project assistant and activities author
Alex Lovallo - living sculpture artist, project assistant and video personality
Ian Ward - film director
Christine Hadekel, project assistant and coordinator for NYS CCE activity pilot testing
Linda Fazzary - website creator
Mark Miller - project evaluator
Craig Cramer - photographer and communications coordinator
Marcia Eames-Sheavly - project producer and coordinator

Students engaged in a two-semester exploration of living sculpture, many of the elements of which informed ideas for this project: Danielle Hodgins, Ding Kong, Bonnie Kirn, Emily Gardner , Alexis Heinz, Victoria Ip, Barbara Conolly, Fred Kussin, Leigh Kalbacker.
Special thanks to students in the Art of Horticulture classes, whose final projects have been an inspiration, and to participants who assisted in the sod sofa installation in Trumansburg, NY.
Also, special thanks to all the teachers and students involved in our pilot project sites, which included: the New York State School for the Blind in Batavia, the McEvoy/BOCES Center in Cortland, the TRUCE center in Harlem, Cooperative Extension of Onondaga County, and the Ithaca Children's Garden.