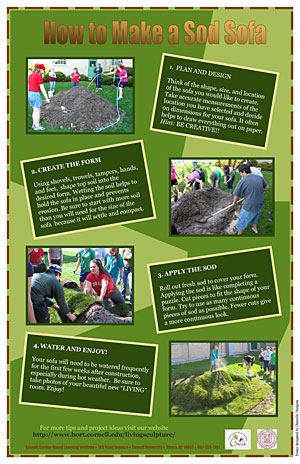 Living Sculpture Promotional Kit
Note: Our supplies of Living Sculpture Promotional Kits are exhausted. But you can download the files below and print your own.
The Cornell Garden-Based Learning Institute has developed a new Living Sculpture toolkit, complete with inspirational and technical posters, activities, seeds, stickers, and more! It's specifically designed to inspire an interest in and enthusiasm for Living Sculpture projects.
Are you looking for a successful way to get your organization or youth group on board in creating a Living Sculpture project? Not sure where to start?
Are you looking for some inspirational ideas and "cool" examples of Living Sculpture projects?
Are you interested in building a quick sod sofa "living" room?
Preview the kit
Here's what you'll find in the kit. Feel free to download and print these materials on your own, and to share them with friends!