Living Sculpture Installation and Workshop at Longwood Gardens
What consumed 40 cubic yards of soil, 2,500 square feet of sod, a boat load of mulch, a whole lot of perspiration, and boasts three Redbud 'Covey Lavender Twist' trees at its heart?
If you guessed a living sculpture, created for and with participants from the July 2008 American Horticultural Society's (AHS) National Children & Youth Garden Symposium, then you hit the nail on the head!
Alexandre Lovallo, Cornell '05, and Cornell Garden-Based Learning Institute program leader Marcia Eames-Sheavly collaborated to create the sculpture at Longwood Gardens, Kennett Square, Pa., Their goal was to create a large scale, ornamental turf and sod installation, while giving workshop participants a chance to experience working with turf as an art medium.
"The design sits in between past living sculptures that invite interaction, and formal garden features that forbid it," observes Lovallo. "The size, shape, and accessibility of the sculpture create a desire to explore it without giving express permission to do so."
About 30 symposium attendees worked for three hours on the living sculpture, in a workshop described by Charlotte Kidd, Mid-Atlantic Regional Editor for the National Gardening Association, as "fun, down and dirty." They moved soil, shaped ridges with plywood templates, and lay freshly cut sod.
"It was remarkable, really. Folks of all ages and physiques, sweating in the heat of the sun, bending over, kneeling, lifting, pushing, surveying the mounds," reflects Erin Marteal. Marteal is a Graduate Fellow in Public Garden Leadership at Cornell University, and was an active participant in the workshop
"I arrived late, but it didn't take me long to become one of the crew, sweat drenched and covered from head to toe in a film of soil dust," she continues. "This part, the implementation part, was not about theory. This was hard work."
The camaraderie and conversation contributed to the light atmosphere, and kept the participants working despite the heat and humidity, she adds. An ice cream break and moving on to sod laying – actually seeing a portion of the sculpture reach its final form – re-invigorated the group.
"The Living Sculpture workshop was a great chance to get out from behind my computer and get my hands dirty with an entirely new kind of garden project," concludes Marteal. "The end product was impressive. And the process of making it happen with a group of strangers working toward a common goal was awe-inspiring."
Eames-Sheavly hopes that this workshop, a new living sculpture website, and a hands-on toolkit that is currently in development will help inspire many future efforts, from small scale projects to grand installations.
For more living sculpture information and activities, visit:
http://www.hort.cornell.edu/livingsculpture
or contact Marcia Eames-Sheavly,
ME14@cornell.edu
Click on images for larger view.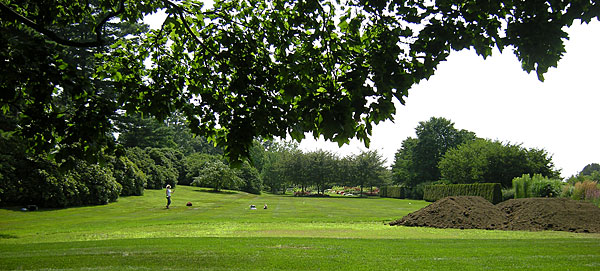 The blank slate: Lawn and 40 yards of soil.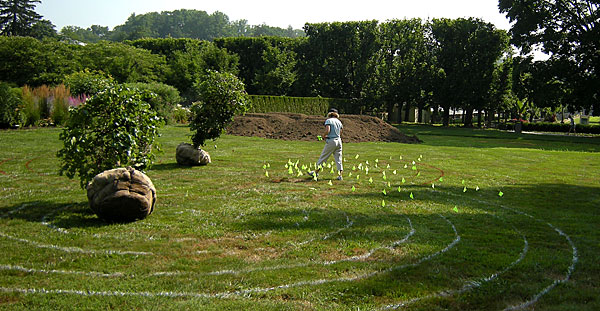 Laying out the pattern.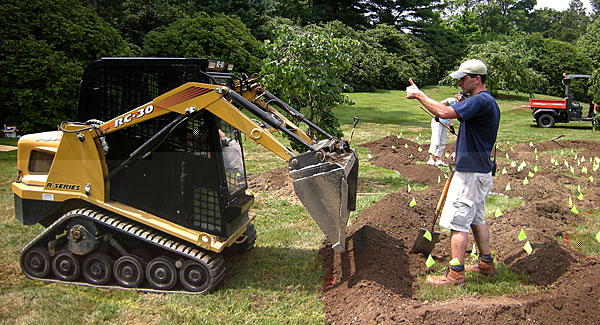 Moving soil into the center of the design.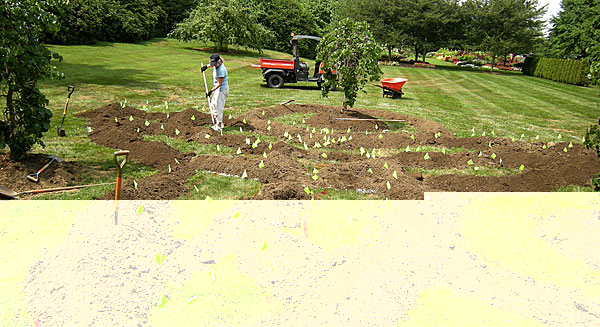 Roughing out the center.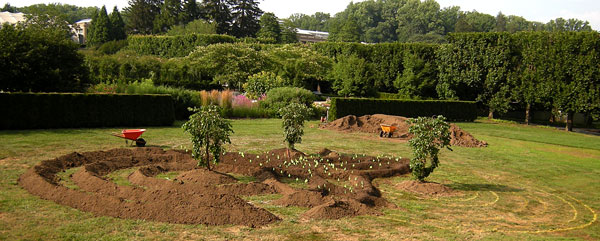 The design takes shape.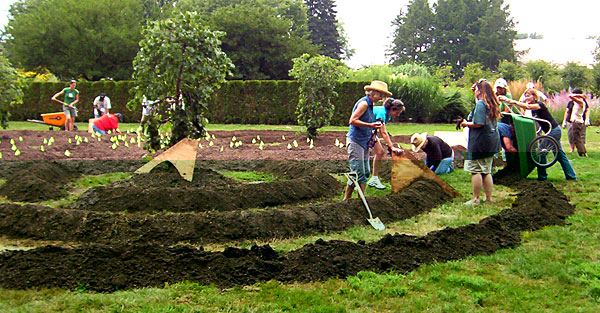 AHS symposium participants jump into the installation with both feet.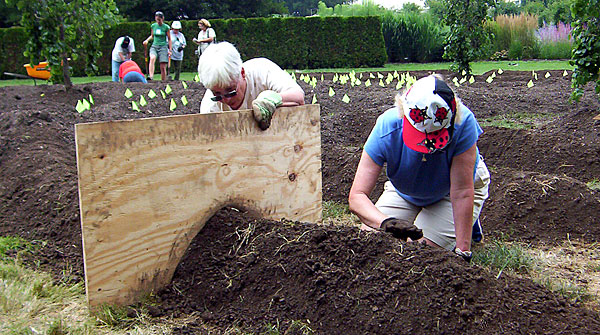 Symposium participants shape soil ridge with plywood template.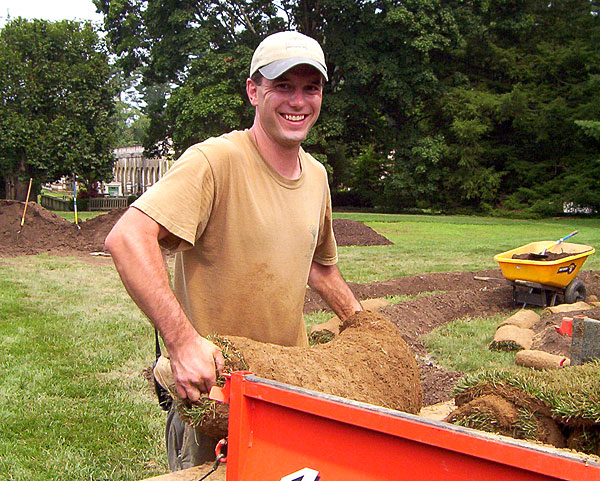 Longwood Gardens staffer Mark Richardson hauls sod to the installation.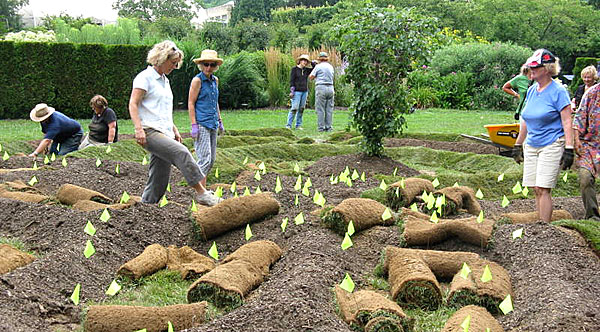 Sod ready to unroll. Photo courtesy Charlotte Kidd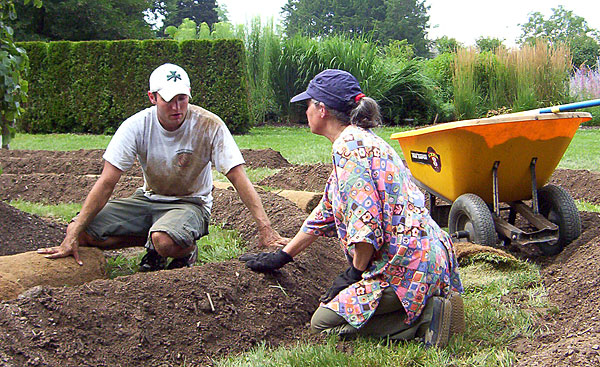 Alex Lovallo (Cornell '05), who designed the sculpture, offers sod-laying advice.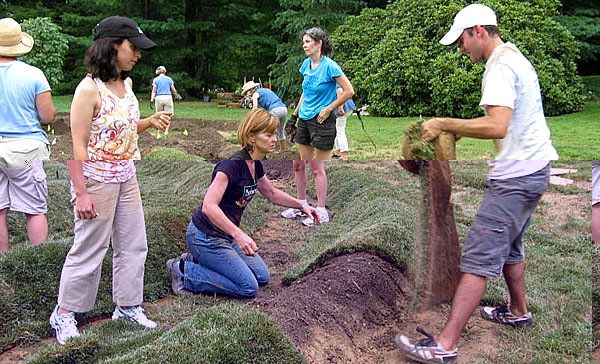 Laying sod. Photo courtesy Charlotte Kidd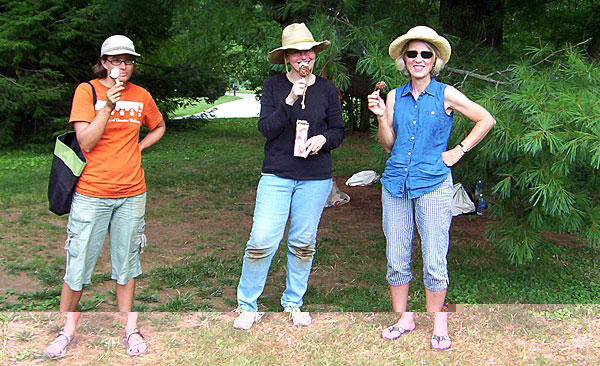 A welcome ice cream break.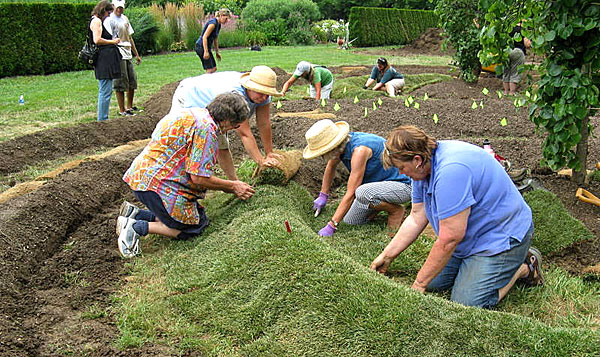 More sod-laying. Photo courtesy Charlotte Kidd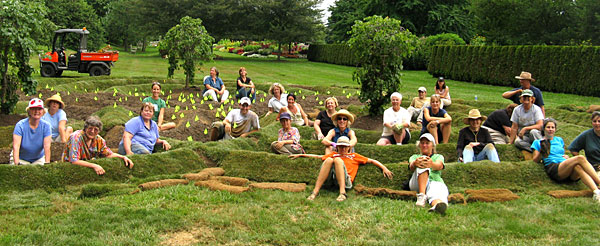 Symposium attendees take a break for a group shot.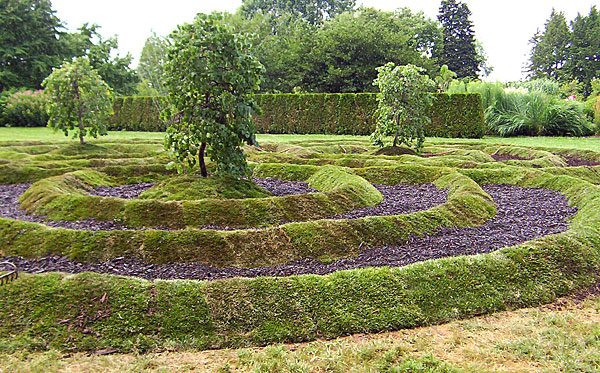 Mulch laid between ridges.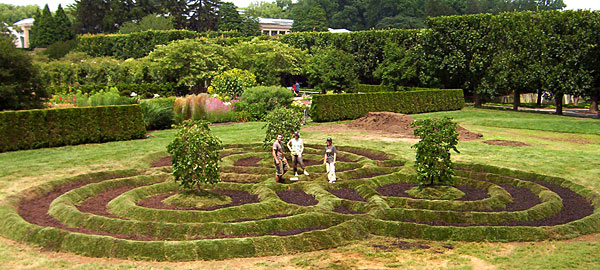 Finished installation.