More Gardening Resources from Cornell
Video:


Adult laying eggs
[Video by Jame Reilly]




Larva emerging
[Video by D. Swaciak]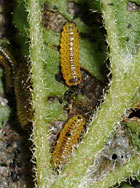 Larva feeding
[Video by Kent Loeffler.]




Adult feeding
[Video by D. Swaciak]

Logo images by Kent Loeffler, Paul Weston & Craig Cramer


Time to look for egg-laying sites
Reduce infesta-
tions next season by pruning out egg-laying sites before hatching begins next spring.



The Viburnum Leaf Beetle Citizen Science Project teams gardeners, landscapers, 4-H groups, school classes and others with researchers at Cornell to learn more about the spread of this new pest in North America, and its effect on our landscapes. You -- as a Citizen Scientist -- can gather information that researchers can use to help stop the spread of this pest, reduce the damage it causes, and help us all be better prepared for future invasions by exotic pests.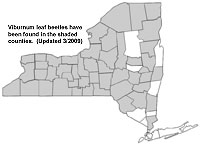 Viburnum leaf beetles have been found in the shaded counties.
See also state & national distribution maps

The viburnum leaf beetle, Pyrrhalta viburni (Paykull), is an invasive, non-native beetle that first appeared in New York along Lake Ontario in 1996, and has steadily spread. It is a voracious eater that can defoliate viburnum shrubs entirely. Plants may die after two or three years of heavy infestation.

Participants in the project monitor their gardens, parks, or school yards throughout the spring and summer, looking for viburnum leaf beetles (VLBs). (They can also look for VLB eggs in winter.) If they find the beetle in any stage of its lifecycle, they report via an online form when and where they found the insect.

With your help we can learn more about the viburnum leaf beetle by:
Tracking its expanding range.
Learning which viburnum species it likes or dislikes.
Assessing how much damage VLBs cause.
Determining how weather and other factors affect its lifecycle.
Identify which management tactics effectively limit pest populations.
The Viburnum Leaf Beetle Project is a team effort led by Lori Bushway in Cornell University's Department of Horticulture and Dr. Paul Weston in the Department of Entomology.


---

© Copyright, Department of Horticulture, Cornell University.

Project coordinator: Lori Bushway, ljb7@cornell.edu
Website design: Craig Cramer cdc25@cornell.edu

Mention of trade names and commercial products is for educational purposes; no discrimination is intended and no endorsement by Cornell Cooperative Extension or Cornell University is implied. Pesticide recommendations are for informational purposes only and manufacturers' recommendations change. Read the manufacturers' instructions carefully before use. Cornell Cooperative Extension and Cornell University assumes no responsibility for the use of any pesticide or chemicals. Some of the links provided are not maintained by Cornell Cooperative Extension and Cornell University. Cornell Cooperative Extension and Cornell University are not responsible for information on these websites. They are included for information purposes only and no endorsement by Cornell Cooperative Extension or Cornell University is implied. Cornell Cooperative Extension provides equal program and employment opportunities.