---
---

Cornell-Geneva Grapevine Breeding and Genetics Program
Project Personnel:
Research Leader: Bruce Reisch
Steve Luce, support and oversight of grapevine breeding field projects
Pat Wallace, research technician, grapevine breeding and biotechnology
Andy Humiston, technician, grapevine breeding and biotechnology
Paola Barba, M.S. candidate, plant breeding and biotechnology
Ryan Amberg, Cornell undergraduate, summer assistant
Antonio Dal Ri, visiting student, San Michele A. Adige, Italy
The Grape Bunch - 2010
(left to right - Antonio, Andy, Ryan, Pat, Bruce, Paola, Steve)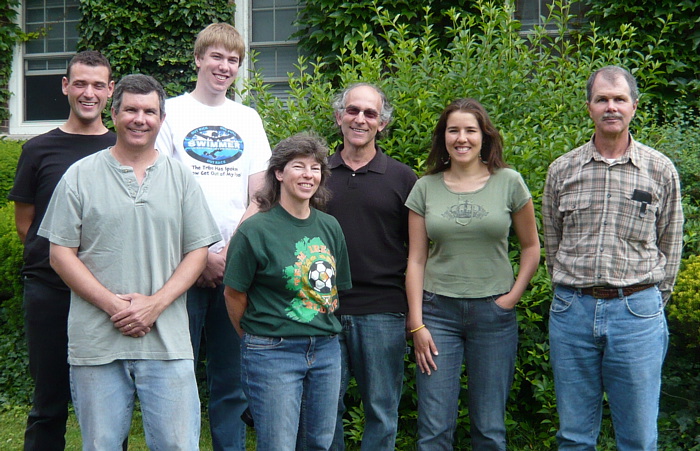 Announcement: Three New Wine Grape Varieties Named and Released, 10 July 2006, at the ASEV-ES meeting in Rochester, New York.

News: The 10th International Conference on Grapevine Breeding and Genetics will take place August 1-5, 2010 at Geneva, New York! The meeting will be hosted by Cornell University, the University of Guelph, and USDA-ARS researchers at the New York State Agricultural Experiment Station.
Information on Grape Varieties:
Return to top of page

---

Selected Resources for Researchers (emphasis on grapevine breeding and genetics)
Return to top of page
---
Graduate Study Opportunities at Cornell University
Return to top of page | Bruce Reisch's home page | Department of Horticulture
Last modified 6 October 2009, Bruce Reisch.