Community
Forestry
Program
Work Team,
Cornell Univ.

Community Forestry
Home Page

Community Forestry Planning



Conducting a Street Tree Inventory

Inventory Methodology
- Using Excel 2003
- Using Excel 2007
- Using STRATUM


Resources

Site contact:
Dr. Nina L. Bassuk
Horticulture Section
134A Plant Science Bldg
Cornell University
Ithaca, NY 14853
Phone: (607) 255-4586
Fax:(607) 255-9998
Email: nlb2@cornell.edu


Community Forestry
Conducting a street tree inventory
Introduction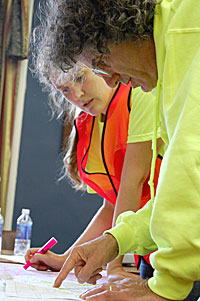 This program offers smaller communities in New York State a cost-effective opportunity to obtain an inventory of all trees and planting spaces within the municipal right-of-way. Having an inventory is essential to developing a master plan to promote the long term health of the community forest and maximize the benefits it provides. Depending on the size of your community and the availability of personnel, the SWAT Team can be hired to conduct an inventory. Consult the pages in this section to learn more about the SWAT approach to street tree inventories and to determine whether a SWAT inventory would be appropriate for your community.
Student Weekend Arborist Team (SWAT) - In 1 or 2 weekend days, trained groups of individuals consisting of Cornell University students and Master Gardeners from Cooperative Extension perform an inventory of your community trees for a fee plus expenses:
Time Frame: 1 or 2 weekend days
Cost: less than $3500
Benefits: useful for communities with less than 2000 street and park trees
Note: the Community Forestry Program Work Team continually re-evaluates this program in order to improve it. For example, through implementing the use of GIS (Geographic Information Systems), we have enhanced the quality of tree location information. We welcome your suggestions and comments about ways in which we can improve the program still further. To find out more about the SWAT Street Tree Inventory, go to Hiring the SWAT Team



© Copyright, Horticulture Section, School of Integrative Plant Science, Cornell University.