Back to UHI homepage
People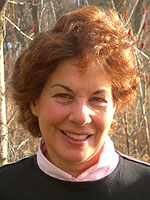 Dr. Nina L. Bassuk
Professor and Program Leader
nlb2@cornell.edu
Research:
Tree, shrub and ground cover selection and evaluation based on site environmental conditions.
Developing screening protocols to objectively assess a woody plant adaptation to environmental stress factors.
Asexual propagation of desirable, hard-to-root woody plants.
Investigating transplanting and establishment problems in several genera of shrubs and trees.


'Creating the Urban Eden' students install planting outside Roberts Hall on the Cornell campus.

Development and application of a load-bearing soil mix to use under pavements, CU-Structural Soil™.
Use of wear tolerant turf on CU-Structural Soil™.
Use or porous pavements on CU-Structural Soil™ for stormwater capture and filtering.
Predicting urban forest genera, species, tree number and size in New York State based on a subsample of street tree inventories.
Teaching:
"Creating the Urban Eden : Woody Plant Identification, Design and Plant Establishment" HORT/LA 4910 and 4920, 8 credits.
Extension:
Bulletins and other resources, workshops, conferences.
NYS Urban Forestry Council, member of, Integrated Pest Management, Sustainable Landscapes and Community Forestry Program Work Teams.
Developed Student Weekend Arborist Team (SWAT) to help small municipalities assess and manage their street and park trees.
---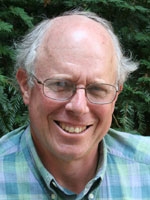 Dr. Thomas Whitlow
Associate Professor
thw2@cornell.edu
Research:
Restoration ecology, plant physiological ecology.
Designing plant communities to restore function to stressed and degraded landscapes.
Phytoremediation of contaminated soil using perennial plants.
Intraspecific variation in stress responses in wide ranging tree species.
Variation in tolerance of green ash and American elm to phytoplasmal infection.
Variation in flood and drought adaptation in red maple.
ABA as a signal of water stress in trees.
Teaching:
Woody Plant Physiology (Hort 640), 4 credits.
Restoration Ecology, Hort 440 (3 credits).
Tools for Thought, Hort 635 (1 credit).
---
Post Doc
Fred Cowett - Research focuses on the demographics of street trees in New York, Pennsylvania and New Jersey, including geographic variability of genus and species composition due to environmental, cultural, and socioeconomic factors. Understanding street tree demographics statewide will help community forest managers to develop sustainable street tree management plans, maximize ecosystem benefits provided by street trees, and assess vulnerability to invasive species such as Emerald Ash Borer and Asian Longhorned Beetle. View Fred's seminar Modeling Street Trees on a Statewide Basis in New York State.
---
Graduate students

Pat MacRae - A Cornell graduate, current graduate student, and UHI technician, Pat manages research in the greenhouse and in the field, collects and analyzes data, assists with the research of fellow graduate students, and supports the Institute's work in many other ways. His own research focuses on the empirical validation of mathematically derived soil volume requirement calculations for street trees, establishment of species-specific Leaf Area Index values, and quantification of street tree water use.

Bryan Denig - A recent graduate of Cornell's Landscape Architecture bachelor's degree program, Bryan's research focuses on screening oak hybrids for tolerance to urban soils. An ongoing research project of Cornell's Urban Horticulture Institute (UHI), this involves the selection, evaluation, and propagation of superior plants for urban environments. The UHI has produced a number of unique white oak hybrids, and developed methods to propagate individual genotypes asexually. Bryan's research involves screening these hybrid genotypes for tolerance to alkaline soils. The results will be used to determine which genotypes are potentially tolerant to the high alkalinity of urban soils, which will aid in the future selection and introduction of superior cultivars into the nursery trade.

Miles S. Sax - Miles comes to Cornell with a BS in Environmental Conservation Studies from the University of New Hampshire. His past professional experience includes organic farm management at UNH and botany with the Bureau of Land Management. Most recently Miles worked at the Arnold Arboretum of Harvard University with joint responsibilities in the Curation and Horticulture Departments. At the Arnold, Miles was given the Arboretum's Malus (apple) collection to restore, manage and curate. Read more: A Year With the Apples of the Arnold Arboretum (Arnoldia 69/2, November 2011)
At Cornell, Miles is a fellow in Cornell Plantations Masters in Public Garden Leadership program. His research involves the study of the long-term effects of the use of organic amendments for remediation of urban soils. This study observes soils across Cornell's campus that have been impacted by urbanization and remediated through organic amendment incorporation. These sites after remediation have then been transformed through the efforts of the Horticulture class "Creating the Urban Eden" into ornamental gardens providing ecosystem services and aesthetic value for the campus community. With a legacy of practice since 2000 these gardens provide an opportunity to study effects of landscape management and ecosystem processes across an extended period of time.