Back to UHI homepage
People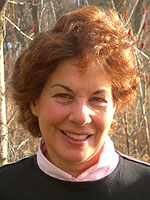 Dr. Nina L. Bassuk
Professor and Program Leader
nlb2@cornell.edu
Research:
Tree, shrub and ground cover selection and evaluation based on site environmental conditions.
Developing screening protocols to objectively assess a woody plant adaptation to environmental stress factors.
Asexual propagation of desirable, hard-to-root woody plants.
Investigating transplanting and establishment problems in several genera of shrubs and trees.


'Creating the Urban Eden' students install planting outside Roberts Hall on the Cornell campus.

Development and application of a load-bearing soil mix to use under pavements, CU-Structural Soil™.
Use of wear tolerant turf on CU-Structural Soil™.
Use or porous pavements on CU-Structural Soil™ for stormwater capture and filtering.
Predicting urban forest genera, species, tree number and size in New York State based on a subsample of street tree inventories.
Teaching:
"Creating the Urban Eden : Woody Plant Identification, Design and Plant Establishment" HORT/LA 4910 and 4920, 8 credits.
Extension:
Bulletins and other resources, workshops, conferences.
NYS Urban Forestry Council, member of, Integrated Pest Management, Sustainable Landscapes and Community Forestry Program Work Teams.
Developed Student Weekend Arborist Team (SWAT) to help small municipalities assess and manage their street and park trees.
---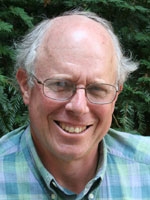 Dr. Thomas Whitlow
Associate Professor
thw2@cornell.edu
Research:
Restoration ecology, plant physiological ecology.
Designing plant communities to restore function to stressed and degraded landscapes.
Phytoremediation of contaminated soil using perennial plants.
Intraspecific variation in stress responses in wide ranging tree species.
Variation in tolerance of green ash and American elm to phytoplasmal infection.
Variation in flood and drought adaptation in red maple.
ABA as a signal of water stress in trees.
Teaching:
Woody Plant Physiology (Hort 640), 4 credits.
Restoration Ecology, Hort 440 (3 credits).
Tools for Thought, Hort 635 (1 credit).
---
Visiting fellow

Bryan Denig - Bryan's research involves the selection, evaluation, and propagation of a number of unique oak hybrids created by the UHI in 2004-2006. These diverse hybrids have the promise of increased vigor and better adaptation to urban stresses such as alkaline soil, flooding, drought, and pests. Since 2012, Bryan has been working on this project with the objective of developing superior oaks for urban landscapes. The ultimate goal of this long-term project is to introduce these selections into the nursery trade as named cultivars. To overcome the challenges with propagating oaks asexually, he is currently working with tissue culture techniques in order to rapidly multiply large numbers of clonally propagated oaks.
---
Graduate students

Hannah Heyman - Hannah is a masters student in horticulture researching the use of compost for urban soil remediation, specifically for reducing compaction. The main goal of the project is the creation of a comprehensive compost specification. This specification will help bridge the gap between compost production and use by creating a common frame of reference for professionals in the landscaping industry and compost producers. She is also working with Nina Bassuk to put together an amendment to the Cornell Soil Health Manual devoted specifically to urban soils. Hannah has a background in public horticulture and environmental education and received her B.S. in environmental science at the University of Michigan.

Brandon Miller – Brandon is a PhD student in horticulture. His research investigates the factors that explain why some trees are more difficult to transplant than others and explores production techniques that may alleviate these issues. The objective of the project is to determine the causal agents that influence transplant success, with an emphasis on species belonging to the genus Carya (hickories), and provide practical solutions for nursery growers. The goal of this research is to provide protocols that will enhance the nursery production of more diverse taxa, including hickories, resulting in viable nursery crop options and new selections for use in managed landscapes. Brandon received his Bachelor of Science degree in Agronomy and Horticulture and his Master of Science degree in Horticulture from Iowa State University in 2015 and 2017.

Miles S. Sax - Miles is a PhD student in horticulture conducting research on tissue culture of the genus Quercus (Oak). The goals of the project are to develop asexual propagation techniques to be used for urban tree selection, improvement and conservation. In 2014 Miles received an MPS in Public Garden Leadership from Cornell University with his research focusing on urban soil remediation using the Scoop & Dump technique. He has a background in Public Horticulture having worked at multiple botanical gardens including the Arnold Arboretum of Harvard University, Morton Arboretum, Cornell Plantations and Stellenbosch University Botanical Garden (South Africa). In 2014 Miles was the recipient of the Frederick Dreer Award, which enabled him to travel to South Africa and gain experience in applied plant conservation and field botany in the context of public gardens. Visit Miles' Dreer South Africa blog) for more information.

Yoshiki Harada - Yoshi is a graduate student working with Tom Whitlow and Nina Bassuk. He is interested in the biogeochemistry of urban ecosystems, in particular, the nutrient loss and the water retention capacity of a designed plant-soil system in highly urbanized and engineered environment, such as green roofs, rooftop farms, and a variety of on-structure landscapes.