Seeley Summit set for June 22-24, 2014:
Water: Horticulture's Next Game Changer?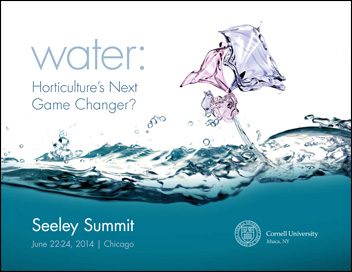 Brochure - Program, speaker bios, housing and travel information

Schedule at a glance
Cost:
$695
10% off for additional member of same company (regardless of when the registration form arrives)
Why is water a game changer?
While water is 100% renewable, changes in distribution, use patterns, and price will make our present patterns of water use unsustainable in the long run. By 2030, it is projected that water demand will outstrip availability by some 40%. Read more about water in the news.
What would happen to companies if they were forced to pay the real cost of water? How will we be impacted by prolonged droughts that lead to more stringent landscaping and home water use laws?
Water will surely be the game-changer of the next 25 years. This year's Seeley is a can't miss opportunity for the entire green industry to discuss this topic. The board has made a concerted effort to invite speakers from across the green industry: greenhouse, nursery, landscape and allied trade as well as water experts outside our industry.
Speakers include:
Bryan Silbermann, President & CEO of Produce Marketing Association
Lyn Clancy and Nora Mullarkey, Lower Colorado River Authority
Bob Dolibois, formerly Executive Vice President of the American Nursery & Landscape Association
Jerry Halamuda, CEO and President of Color Spot Nurseries
Al Gerace, CEO of Welby Gardens, Denver Colorado
Hugh Gramling, formerly Executive Director of Tampa Bay Wholesale Growers
Ron Griffin, Professor of water resource economics at Texas A&M University
John Lea Cox, Professor of nursery research and extension at the University of Maryland
Charles Bauers, Owner of Flowers by Bauers, Jarrettsville, MD
Bill Phillimore, Executive Vice President for Paramount Farming Co.
Jeffrey Bruce, Owner of Jeffrey L. Bruce & Company
Join fellow industry leaders as we dive into the water topic. We believe the new, easier to access location, and a reduced registration cost that the Summit offers will be attractive to many leaders in the industry. Reserve your spot now!
---
Press release:
Contacts:
ITHACA, NY — The Board of Cornell University's Seeley Conference is pleased to announce that the next Seeley Summit will take place June 22-24, 2014 in Lisle, Illinois – conveniently located for ease of travel into Chicago O'Hare and Midway airports.
The Board has chosen to tackle the insipient issue of water scarcity for its 2014 focus. The Board believes water availability will be among the greatest challenges facing the floriculture industry in coming years The water scarcity topic is particularly well suited to the Seeley Summit as floriculture and horticulture's major growing regions are in areas of regular water scarcity (arid west) or regions of occasional extreme shortage (southeast) and no region is completely immune (Midwest drought, summer 2012). Ultimately, all sectors of the floriculture supply chain including growers, retailers, landscapers, and the end consumer are, or will be, affected by water scarcity.
The interactive think-tank atmosphere of the Seeley Summit will allow for plenty of interaction with fellow industry leaders and water experts from outside our industry regarding these timely issues:
What if you had to deal with the real cost, including distribution, of water?
What if the direct cost of water to grow a pot plant, flat or hanging basket was equal to or exceeded the cost of the plastic or growing medium used?
What would this do to your business?
How do we make changes in our (your) business to accommodate the current and future ever-increasing costs of water?
In drought conditions, how do we convince the legislators (and consumers) to consider and factor in the environmental, social, economic, health/wellnesss benefits of plants, trees and flowers into any water restriction guidelines they're considering?
For more information regarding the 2104 Seeley Summit visit www.seeleysummit.com, or Facebook users can refer to the Seeley Summit fan page.
---
About Seeley Summits


John Seeley
1915-2007
The Seeley Summit evolved from the Seeley Conference, which was established in 1986 in honor of Dr. John G. Seeley (1915-2007) after his retirement from Cornell University. Each year a topic important to the future of floriculture is chosen by the Board of Directors.
After concluding the 26th annual Seeley Conference in 2011 and for the two years that followed, the Board of Directors conducted extensive research among past attendees and non-attendees and decided that a changed location and format was warranted.
The 2014 Seeley Summit is the result. We offer a changed venue, a shorter program, and a more focused opportunity to hear from renowned experts in the field and to discuss the topic's relevance to individual firms and the horticulture industry as a whole.
Seeley Summits are intended to promote discussion of issues important to the future of commercial floriculture. The meetings are structured to foster discussion by industry leaders and increase the level of understanding of topics through presentations by speakers with a wide range of backgrounds and experiences. The goal of the Summit is to better prepare attendees to make decisions on issues that have a great impact on their businesses and the industry as a whole.
To assure free exchange of ideas, participants, including representatives of the trade press, are asked not to attribute comments or points of view to speakers or industry leaders unless such dissemination is agreed to by the person expressing their point of view.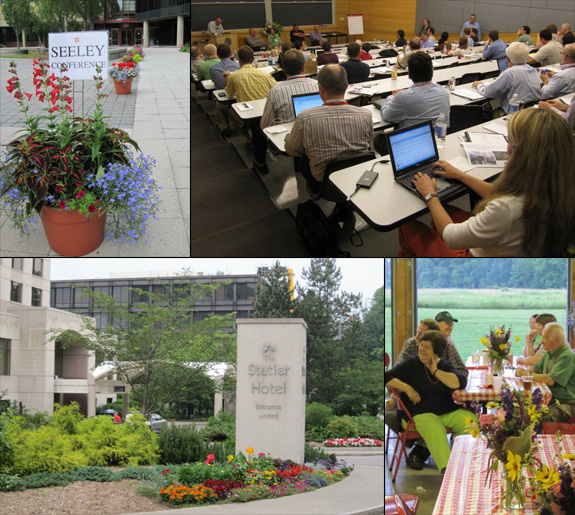 Scenes from 2010 Seeley Conference

Information about previous conferences:
---
Seeley Conference website: www.hort.cornell.edu/seeleysummit/ [lamp]
Contact: seeleysummit@cornell.edu
Mail: Seeley Summit, 134A Plant Science Building, Cornell University, Ithaca, NY 14853
Phone: 607-255-2131 or 607-255-1789 or fax: 607-255-0599.