Community
Forestry
Program
Work Team,
Cornell Univ.
Community Forestry
Home Page
Resources menu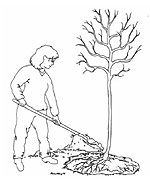 Site contact:
Dr. Nina L. Bassuk
Horticulture Section
134A Plant Science Bldg
Cornell University
Ithaca, NY 14853
Phone: (607) 255-4586
Fax:(607) 255-9998
Email: nlb2@cornell.edu


Community Forestry
Site preparation resources

Cornell resources:

Cornell Structural Soil - Structural soil was developed and patented by Cornell University to safely bear pavement loads after compaction and still allow root penetration and vigorous tree growth.

Growing Trees in a Cement Forest - Article about CU-Structural Soil™ in Land Development Today.

Journal articles - Technical papers on soil compaction and structural soil by researchers at Cornell's Urban Horticulture Institute. See also journal articles on soil volume.

© Copyright, Horticulture Section, School of Integrative Plant Science, Cornell University.