Community
Forestry
Program
Work Team,
Cornell Univ.
Community Forestry
Home Page
Resources menu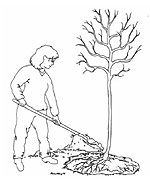 Site contact:
Dr. Nina L. Bassuk
Horticulture Section
134A Plant Science Bldg
Cornell University
Ithaca, NY 14853
Phone: (607) 255-4586
Fax:(607) 255-9998
Email: nlb2@cornell.edu


Community Forestry
Mulch


Cornell resources:

Mulches for landscaping - From Cornell Gardening Resources website. Includes Too much mulch can kill! and Beware of toxic mulch

Other resources:

Proper Mulching Techniques - International Society of Arboriculture brochure series.

Mulching Trees - USDA Forest Service Northeast Center for Urban and Community Forestry Urban and Community Forestry Factsheets.

© Copyright, Horticulture Section, School of Integrative Plant Science, Cornell University.