Community
Forestry
Program
Work Team,
Cornell Univ.
Community Forestry
Home Page
Resources menu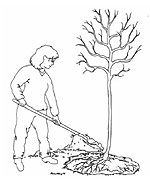 Site contact:
Dr. Nina L. Bassuk
Horticulture Section
134A Plant Science Bldg
Cornell University
Ithaca, NY 14853
Phone: (607) 255-4586
Fax:(607) 255-9998
Email: nlb2@cornell.edu


Community Forestry
Benefits of urban trees


Other resources

Human Dimensions of Urban Forestry and Urban Greening - Features research on peoples' perceptions and behaviors regarding nature in cities.

Why invest in city/town trees? - Factsheet from Massachusetts Urban and Community Forestry program.

USDA Northeast Research Station - Information on effects of urban forests and their management on human health and environmental quality. See especially study areas.

Landscape and Human Health Laboratory - Multidisciplinary lab studying the relationships between people and the environments they inhabit. See especially Girls and Greenery, Plants and Poverty and Vegetation and Violence.

Benefits of Trees - International Society of Arboriculture brochure series.

Tree Values - International Society of Arboriculture brochure series.

© Copyright, Horticulture Section, School of Integrative Plant Science, Cornell University.