---
Northeast Buckwheat Growers Newsletter
No. 29 June 2010
Edited by Thomas Bjorkman, Cornell NYSAES, Geneva NY
---
2010 Field Day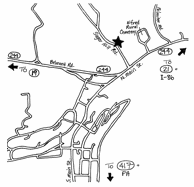 The 2010 Northeast Buckwheat Field Day will be hosted by the Center for Organic and Sustainable Agriculture recently established at Alfred State and directed by Brian Baker. It will run from 1 to 4 pm on Tuesday, August 24. Thomas Bjorkman of Cornell University will demonstrate best management techniques for buckwheat grain production, and show some practices to avoid and their consequences. Elizabeth Dyck will describe efforts to establish local production and marketing of organic buckwheat seed for cover crop use. There will be ample time to meet and exchange information with other buckwheat growers. Finally, there will be a demonstration of cover crops used in the summer. It will feature buckwheat, as well as sorghum-sudangrass, Japanese millet, phacelia, and crotalaria. This demonstration will help you find niches for summer cover crops in your cropping system. Alfred is in Allegheny County, six miles south of Exit 33 (Almond) on Interstate 86.
Seed and grain prices up
Buckwheat prices are up $3 from last year. Birkett Mills is offering $20 per hundredweight and $24 for certified organic seed. Buckwheat growers' land is required to be certified organic before contracting organic seed with Birkett Mills.
This year, seed costs $22 per 50 lb. bag, or $25 for organic. Grain must be sold back to Birkett Mills, as they are leasing seed on a total production contract this year. Birkett Mills suggests that you reserve your seed in advance.
More info at www.thebirkettmills.com
Production notes: fitting ground
Fitting your field properly before planting buckwheat helps ensure uniform establishment, rapid growth, and uptake of nutrients and reduces drought injury and lodging. Here are some reminders for preparing your buckwheat plots:
Plow and disk soil early to mid-June to preserve ample soil moisture
In land that has not been cultivated for several years, plow deeply weeks before planting in order to break down vegetation. Then harrow the soil periodically to retain its moisture and prevent weed growth.
Plowing can be replaced by disking or harrowing with a spring-tooth field cultivator or vibrashank if your field previously held smalls grain or a cultivated crop.
Tilling the soil early avoids planting in soil that becomes difficult to work with in late June or early July.
Do not sow seed in wet soil because the soil will harden, preventing the fine root system from growing.
Health benefits of buckwheat
Buckwheat provides many health benefits. Here is a list of just some of the ways eating buckwheat can keep you healthy:
Blood Pressure. Buckwheat both lowers your risk of high blood pressure and mitigates its consequences. Flavonoids in buckwheat function as antioxidants. Rutin, in particular, strengthens capillary walls to prevent damage from high blood pressure. This helps blood flow more easily.
Cholesterol. Buckwheat protein binds cholesterol tightly and removes it from the gut and even some from the bloodstream.
Diabetes. An insulin cofactor in buckwheat known as chiro-inositol is helpful in lowering blood-sugar levels in diabetics. There are also other factors in buckwheat that affect sugar uptake by liver cells. Buckwheat is a dietary way for diabetics to take better control of their blood-sugar levels.
Heart Disease. Plant lignans are phytonutrients that are plentiful in buckwheat. They have been correlated with a lower risk of heart disease.
Cancer. Buckwheat, as a whole grain, contains high levels of fiber, which lower your risk for many forms of cancer. Jun Kayashita and his team have also shown that buckwheat protein reduces instances of breast cancer tumors by suppressing a hormone called estradiol.
Celiac Disease. Buckwheat is an excellent substitute for wheat for people with Celiac disease, whose bodies cannot tolerate gluten. Buckwheat is completely gluten-free and can help them have a more normal diet.
Nutrients. Buckwheat contains high levels of both magnesium and manganese. It is also rich in dietary fiber, which has multiple health benefits that include lowering your risk of both cancer and heart disease. Finally, buckwheat protein is balanced in the essential amino acids. That balance makes buckwheat a good protein source, especially for vegans.
Buckwheat WHFoods. The George Mateljan Foundation.
| $/ac | Buckwheat | Corn |
| --- | --- | --- |
| Income | | |
| Costs | | |
| Seed | | |
| Fertilizer | | |
| Chemicals | | |
| Fuel & Equipment | | |
| Total variable | | |
| Net before fixed costs | | |
Economics vs. corn
With the great fluctuation in commodity prices over the last several years, it is worthwhile to take another look at the economics of planting buckwheat as a catch crop when it is getting late to plant corn. In this scenario, we assume that a field was intended for corn but weather conditions prevented planting until mid-June. With mid-June plantings, corn has modest yields and only produces at about 50% of its full potential. There is not much profit in it, so it is a good idea to consider buckwheat instead. Here is a sample crop budget comparison. It assumes you have a field that was plowed for planting corn on June 15, but are considering buckwheat instead. Compare it to your own yield expectations and costs.
The difference in fuel and equipment is because buckwheat requires only fitting, drilling, and harvest, whereas corn also requires herbicide application and/or cultivation, as well as the handling and trucking of nearly four times as much product.
Multi-peril insurance in MN and ND
New insurance policies in Minnesota and North Dakota offer multi-peril crop insurance for buckwheat this year. Among the potential causes of loss covered are weather damage, failure of irrigation, fire, insects, and plant disease. There are also policies that insure crops planted after the final planting date.
The insurance currently covers eight counties in Minnesota, and twelve in North Dakota. However, multi-peril crop insurance may come to the northeast in future years. If you want to see buckwheat MCPI here in the future, you need to show interest to the USDA by filing a written agreement through your crop insurance agent.
New buckwheat fact sheets available
Two new buckwheat production fact sheets will be added to the Agronomy Fact Sheets series issued by Cornell University. One covers planting, the other harvest. This fact sheet series is intended to supplement the regular Cornell field crop production recommendations.
These two fact sheets are based on the information in the online Buckwheat Production Guide that has been available for over ten years. The factsheets are available only online. Those without direct access can have them printed out at their county extension office.
New local seed production
The USDA has funded a new project that will help organic vegetable farms use summer cover crops more effectively by establishing local production of organic buckwheat seed. Project leader Thomas Björkman proposes that growers would use more buckwheat if they had a ready supply of organic seed. Local sources can be spotty, and transportation is expensive even if the supply is only a few hours away. To that end, project member Elizabeth Dyck is working on establishing this local supply.
Elizabeth is an expert on cover crops and at on-farm seed production. She will help growers learn to raise seed that has high vigor and is free of weed seed, essential properties of cover crop seed. She will also help them figure out how to market to the local organic community. This small-scale production will be a new market opportunity for some organic producers and will create a cheaper way for vegetable growers to get the organic cover crop seed they need. Elizabeth will describe her project at this year's Buckwheat Field Day.
Previous | Next
---