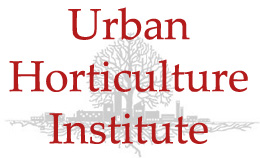 Back to tree list
City of Ithaca
Stewart Park Tree Tour
Golden Rain Tree
Koelreuteria paniculata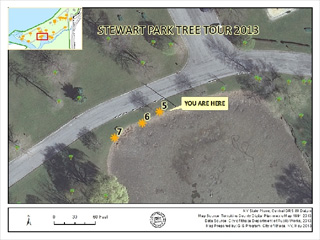 larger map
In mid summer you will see the glorious yellow blooms of the Goldenrain tree, Koelreuteria paniculata. This medium to small-sized tree that hails from China, Japan and Korea is one of the few trees that blooms at this time of year.
When we celebrate the 4th of July and the Declaration of Independence, we can also thank Thomas Jefferson for introducing Goldenrain Tree to this country. Goldenrain tree had already made its way to Europe when Jefferson, while serving as Minister to France between 1784 and 1789, struck up a friendship with Madame de Tesse, aunt of the Marquis de Lafayette. Jefferson was an avid horticulturist and encouraged his friends to send him seeds.
It is recorded that on June 12, 1809, Jefferson received seeds of Koelreuteria from France and had a tree growing from them 2 years later at his home in Monticello, Virginia.
Although it was reintroduced several times after that, we can thank Thomas Jefferson's love of plants for this very tough urban tree.
We now know that it is one of the most drought and heat tolerant trees and grows well all over the United States except where the winter temperature drops below -20F. It grows well in most soils except where the soils don't drain well.  In Ithaca, in addition to the common Goldenrain Tree, we have two variants, the cultivar 'September' and  'Rose Lantern.' Both these trees bloom later into the early fall and Rose Lantern's seedpods are a beautiful pink color before they turn tan.
~contributed by Nina Bassuk
More info, images at the Woody Plants Database website.
Back to tree list
For more information about Ithaca City Trees, contact City Forester Jeanne Grace: jgrace@cityofithaca.org (607) 272-1718.