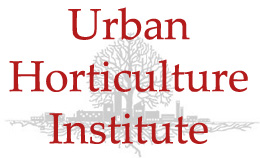 Back to tree list
City of Ithaca
Stewart Park Tree Tour
Accolade Elm
Ulmus 'Morton'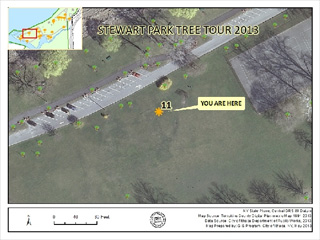 larger map
The Accolade Elm is a wonderful hybrid elm that is resistant to Dutch Elm Disease and Phloem Necrosis, two diseases that can kill other elm trees. It is also highly resistant to Elm Leaf Beetle.
Its botanical name is Ulmus 'Morton', a hybrid between Ulmus japonica and Ulmus wilsoniana. Accolade is its trademarked name.
It originated from seed collected at the Arnold Arboretum near Boston in 1924. Dr. George Ware directed an elm improvement program at the Morton Arboretum near Chicago in 1972 and recognized Accolade for its great vase shaped form, vigor and disease resistance.  It is also tolerant of drought, poor drainage and alkaline soil –all conditions that affect urban trees. The original parent tree can still be seen at the Morton Arboretum. This tree and all 'Accolade ' elm trees are a clone of the original parent tree.
It was introduced to the nursery industry by the Chicagoland Grows Plant Introduction organization and has rapidly met with favor across the country. Because of its vase shaped form it is thought to be a good replacement for the American Elm, which succumbed to Dutch Elm Disease during the mid 20th century.
The Society of Municipal Arborists named Accolade Elm the Urban Tree of the Year in 2012.
~contributed by Nina Bassuk
More info, images at the Woody Plants Database website.
Back to tree list
For more information about Ithaca City Trees, contact City Forester Jeanne Grace: jgrace@cityofithaca.org (607) 272-1718.