European (Vitis vinifera) Wine Grape Varieties
The first colonists of what is now New York State attempted to grow European grapes, but failed. Successive attempts were all failures until the 1960's. Invariably, the failed vineyards died from winter cold injury, but several underlying factors contributed to the failure to achieve satisfactory cold hardiness. The fundamental reason is that V. vinifera vines generally are less cold hardy than the American grape species used to produce interspecific hybrids. However, equally important is the fact that these grapes have little or no inherent resistance to several pests and diseases native to our state. These include the grape root aphid, phylloxera, and several fungal diseases (powdery mildew, black rot, and downy mildew). It was not until satisfactory phylloxera-resistant rootstocks were identified and modern fungicides developed that even the limited cold hardiness potential of these varieties could be attained in the field. Recently we have found that V. vinifera varieties will not succeed in soils traditionally used to grow American varieties unless the soil pH is raised to about 6.5.
Another important factor that limited the success of these very old varieties was the health of the nursery stock from which they were produced. During the many centuries of culture, certain virus and virus-like diseases have become very widespread in V. vinifera. In places in the world which have less stringent climates, such as California, these diseases may have only marginal impact on yield or grape quality. In fact, it has been suggested that the vines may even benefit from a dwarfing effect. However, in New York's climate, anything that detracts from normal vine function is likely to reduce winter cold tolerance. Certified planting stock which has been tested for known virus pathogens is now available. Unfortunately, because of stringent federal quarantine regulations, we have primary access only to selections from California and are unable to test clones of these varieties which have been selected and tested by European scientists to tolerate growing conditions more like those of New York than California.
It is important to remember the vulnerability of European grape varieties. Only sites which do not place extra restrictions on vine function, such as poor soil or air drainage; excessive or inadequate fertility; or local restrictions on growing season length should be used for V. vinifera. In addition growers must use stringent measures to control diseases and insects; superior pruning and training methods; and employ canopy management techniques such as leaf removal which will enhance wood maturity and minimize disease. These techniques are discussed in Cornell Miscellaneous Bulletin 111, Cultural Practices for Commercial Vineyards (Jordan et al., 1980).
Those interested in information regarding vinifera varieties should also visit Bob Pool's Grape Pages.
Leading White Wine Vitis vinifera Varieties
Chardonnay
Chardonnay is the most widely planted V. vinifera variety in New York (Table 1). Relative to other V. vinifera varieties, it is cold hardy, but not so hardy as White Riesling or Cabernet franc. Its advantages include very high wine quality for both still and sparkling table wines; early and reliable fruit and wood maturity; and moderate vigor. The primary disadvantage is relatively high susceptibility to Botrytis bunch rot. For that reason, the use of vertical training combined with summer pruning and leaf removal have often produced superior results. Of the several clones tested at Geneva, we have found the locally available New York clone to be superior to those from Foundation Plant Materials Service of California. Those clones tend to set excessive crops of very compact clusters which rot easily and do not ripen reliably. Their vegetative growth is excessive and winter cold injury often is the result.
White Riesling
White Riesling is also widely planted because of its high relative cold hardiness and the excellent quality of both still and sparkling wines made from its fruit. New York White Riesling wines are probably superior to any except those of its homeland in Germany. The major disadvantage is the susceptibility of its fruit to Botrytis bunch rot and the relatively late harvest date. White Riesling quite reliably reaches the maturity levels commonly chosen in Europe (17-20% soluble solids) for the variety. The bunch rot susceptibility suggests that extra canopy management techniques such as leaf removal and extra sprays to combat bunch rot may be advantageous. Several excellent clones are available, but older non-virus tested ones should be avoided as they have reduced production potential in comparison to certified clones.
Pinot blanc
Pinot blanc, a white fruited form of Pinot noir, is an important white wine variety in Germany, Alsace and the Loire Valley of France. Adaptability to New York growing conditions is similar to Chardonnay, and it has more resistance to bunch rot . It seems worthy of more extensive culture in New York.
Pinot gris
Pinot gris is the "grey" (light red) form of Pinot noir. The clone we have tested is not as cold hardy as our Pinot blanc clone, but is as hardy as the better Pinot noir clones we have tested. It too appears to resist bunch rot. Pinot gris makes a fuller bodied white wine than does Pinot blanc. Both the blanc and gris forms add to the quality of sparkling wine cuvées and make interesting still wines. They have the potential to offer an interesting alternative to Chardonnay or White Riesling for quality wine production.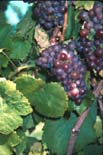 Gewürztraminer
Gewürztraminer has red fruit but makes white wine with very distinctive spicy aromas that have a selective market appeal. It is distinctly less cold hardy than the best adapted V. vinifera varieties, and its high vigor and long vegetative growth cycle have created problems in many New York vineyards. The large vines result in shaded fruit, uneven ripening, and less than optimal cold hardiness. On favorable sites and with appropriate canopy management techniques, however, production and wine quality can be excellent. We have only tested a single clone from California.
Muscat Ottonel
Muscat Ottonel is a productive variety which does well in most years. However, if wood maturity is restricted by cool summer temperatures or when winter cold is severe, cold injury results. It's cold hardiness is similar to that of Gewürztraminer. It makes excellent muscat flavored wines, and is the best adapted of the traditional muscat varieties in New York. Resistance to bunch rot is moderate.
Sauvignon blanc
Sauvignon blanc has produced outstanding wines in New York. However several major problems with the variety suggest that it should be planted with caution. It is a very vigorous variety with a long vegetative cycle. Cold hardiness is difficult to attain in our climate, and its maximum hardiness appears to be quite low. The clusters are very susceptible to Botrytis infection and the strong vegetative growth produces a large canopy which increases bunch rot potential and reduces vine fruitfulness. We have only tested a single clone from California. Clones from Europe are reported to have shorter vegetative cycles and might be better adapted to New York.
Other Vitis vinifera White Wine Varieties
Noblessa

Siegerrebe
Tests of vinifera performance at Geneva and elsewhere in the state have identified several less well known white wine varieties which appear to have some potential for use in cold climates. They include Comtessa which produces fruity wines with good acid structure which are similar to those of White Riesling. Winter cold hardiness and bunch rot tolerance appear to be good. Comtessa ripens with Chardonnay, well before White Riesling. Morio Muscat appears to be slightly more cold tolerant and earlier ripening than Muscat Ottonel. The wine is distinctly muscat flavored. Bunch rot resistance may not be as high as that of Muscat Ottonel. Noblessa has moderate cold tolerance and few cultural problems. Its fruit ripens very early (the first week in September in Geneva) and the wines have been rated highly. Its primary defect is low vigor and hence low yields when planted at standard vine spacing intervals. Therefore, closer in-the-row spacing than the norm should be considered. Semillon is a standard variety of Bordeaux. Although not included in recent tests at Geneva, it performed reasonably well in earlier trials. Experimental planting might be justified for people who are looking for white wine alternatives to the New York standard V. vinifera varieties. Siegerrebe was produced from a cross of Madeleine Angevine x Gewürztraminer. It ripens very early (last week of August to the first week of September at Geneva) and has good winter cold hardiness. The wine is very fruity with some similarity to that of Gewürztraminer. It would probably be of most interest to areas with shorter than normal growing seasons. Because of its early ripening, bird depredation has been severe.

Leading Red Wine Vitis vinifera Varieties

Pinot noir is one of the world's great red wine varieties. When fully mature, it produces superior red table wines. Excellent sparkling wines can be produced when it is made as a white wine. These may be made from Pinot noir alone, or by blending with other traditional sparkling wine varieties. Because of its early ripening (first week of October in Geneva) relative to other classic red V. vinifera varieties and its reasonable cold hardiness, Pinot noir is an attractive choice for the cooler production areas of New York. However, the variety has two important defects. It tends to produce very compact clusters of thin skinned fruit which are very susceptible to Botrytis infection and subsequent bunch rot, and wines tend to be deficient in color. Color is invariably a problem when the fruit is harvested early to avoid bunch rot. Bunch rot is rarely a problem for sparkling wine production because the fruit is properly harvested before bunch rot becomes a problem.

We have many clones of Pinot noir under test and there are great differences among them. The following are primarily
| | | |
| --- | --- | --- |
| Pinot Noir "Mariafeld" | Pinot Noir "Geneva" | Pinot Noir "Gamay Beaufolais" |
listed because of their general availability. Pinot noir "Mariafeld" ("Klevner Mariafeld") originated in Switzerland. It has the greatest resistance to bunch rot of any Pinot noir clone we have tested. It tends to have high yield, very large berry size and relatively low winter cold tolerance. Normally these factors should discourage planting, but because harvest can be delayed until full maturity, the clone often produces superior wines to clones with higher quality potential which must be harvested early to avoid bunch rot. The wines are high in color and tannin relative to other clones. We recommend that "Mariafeld" be planted as one of a mix of clones when red Pinot noir wines are desired. The origin of Pinot noir "Geneva" has been lost. Relative to other clones it has good winter cold hardiness but bunch rot resistance is low. Pinot noir "Gamay Beaujolais" is another variety whose moderate wine quality is enhanced because bunch rot tolerance allows harvest to be delayed until fruitisfully mature. Other clones currently being tested appear promising. Before growers make planting decisions, they should check current information on suitability and availability of alternative Pinot noir clones.
Pinot Meunier resembles Pinot noir closely. It is among the most winter hardy of the red Pinot family which we have tested and it is also the most bunch rot susceptible. In France the variety is used solely as a component of Champagne blends, and it would appear to be best suited for that role in New York. Good red wines have been made, however, in years of low Botrytis hazard.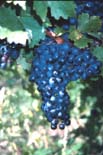 Cabernet Sauvignon
Cabernet Sauvignon is one of the most cold hardy and disease resistant V. vinifera varieties. Although late ripening, satisfactory levels of sugar in most New York production areas are usually attained. However, sugar alone does not determine wine quality, and consistent superior wine quality has only been achieved in the warmer production areas.
Cabernet franc
Cabernet franc should be considered as an alternative or a supplement to Cabernet Sauvignon. It is the most cold hardy V. vinifera variety we have tested. The fruit ripens earlier and has produced quality wines more consistently than has that of Cabernet Sauvignon.
Other Vitis vinifera Red Wine Varieties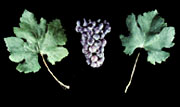 Merlot
Merlot has produced superior wines in New York. However, it has a very long vegetative growth cycle and tends to produce dense, shaded canopies. This leads to bunch rot and reduced winter cold tolerance. It is not recommended for any but the most favored sites in New York.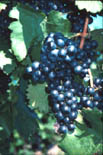 Limberger
Limberger is grown under several different names in the northern production areas of Europe (e.g. Lemberger, Blaufränkisch). There has not been wide commercial testing of the variety in New York, but results to date have been favorable. Cold hardiness appears acceptable and Botrytis resistance is good. The clusters are large and yield potential is high, which may dictate the need for crop control in some years. Wines have been highly rated; they have deep red color and rich tannins.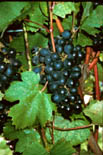 Gamay noir
Gamay noir has only recently been tested in New York. It is the primary red wine variety of Beaujolais in France, and New York wines have been well received. We do not have enough experience to judge its real potential, and so plantings should be considered experimental.
| | |
| --- | --- |
| Trollinger | Rotberger |
Trollinger has been a consistent vineyard performer in tests at Geneva. In Europe the variety is grown widely in northern regions to produce early maturing, light red table wines. Experimental planting is suggested for producers who are interested in wines of this type. A cross of Trollinger named Rotberger has also been a consistent producer of enjoyable fruity, red wines.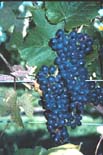 Petite Verdot
Petite Verdot is the last of the classic Bordeaux varieties to be mentioned in this publication. Yields have been low at Geneva, fruit maturity is very late and wine quality has been mediocre at best. We only recommend small trial plantings of the variety for producers who wish to produce complex blends of Bordeaux red wine varieties.