Students, friends, others: If you spot examples of horticultural art in your travels, send them our way and we'll post them here.
Click on images for a larger view.
---
Sculpture garden at PepsiCo
[3/27/2006] I visited PepsiCo headquarters in Purchase, NY over break and they have a beautiful sculpture garden on the premises. I've attached some pictures that I took of topiary and woven branch sculptures that I found amidst the famous scultpures.
Megan
---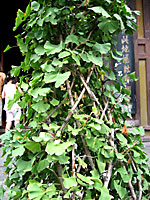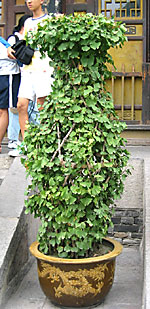 Ginkgo 'vase' sculpture in China
[9/20/2005] I had a great time in the Art of Hort last semester. This summer I went to China and I saw this "sculpture" in one of the ancient Buddhist temples. It's made of grafted ginkgo trees and shaped to look like a large vase. (Actually there was a pair of them) so I took some pictures.
Elaine
---
The Art of Horticulture
Marcia Eames-Sheavly
Horticulture Section
me14@cornell.edu
15B Plant Science Building
Cornell University
Ithaca, NY 14853